Here's my review of the 2009 Kawasaki Versys. Why? Because: I've had the bike for one year now, and I'm the only member on NN riding a Versys…
On stats:
Year: 2009, bought new in Sep 2010
MSRP (Canada) $8,649, I paid $6,499
Engine: 649cc parallel twin (borrowed from the Ninja 650)
Fuel Injected, 6 speed, sealed chain drive
Tires: (F) 120/70-ZR17 (R)160/60-ZR17
Suspension (F) 41mm telescopic forks, (R) single offset laydown shock
Brakes: (F) Dual 300mm drilled discs, (R)Single 220mm drilled disc
Seat height: 840mm
Curb mass: 206kgs
Fuel tank: 19L
On the Name:
Why Versys? That's a made up name from Kawasaki combining "versatile" and "system" as an attempt to define a bike that does not easily fit into a category. Not a sport bike, but too sporty to be a standard, not really naked, and certainly not a cruiser. Not trail worthy enough to be a dual sport. I just categorize it simply as a Street Bike.
The plastic side cowls covering the tank left Kawi to stick its moniker, literally, on the plastic. With the "Kawasaki Versys" names being a mere decal with no clear coat, it is popular to de-badge/rebadge the bike. I tried a military stencil that read "WAR MACHINE", what I affectionately call my bike, but they didn't stand up to wear and tear. So I rode naked for awhile. That was fun because Kawasaki appears nowhere on the bike and it seems no one knows what it is. I did once convince a guy it was the newest model from Porsche. Now I have the bike decked out in a Canadian Airforce theme.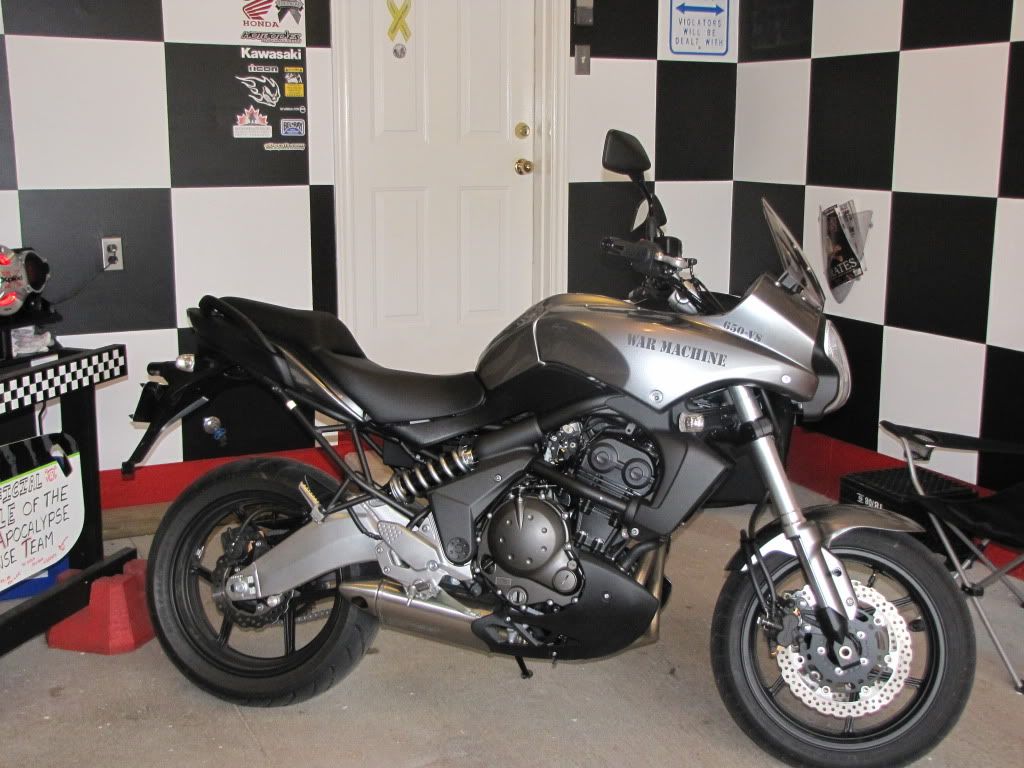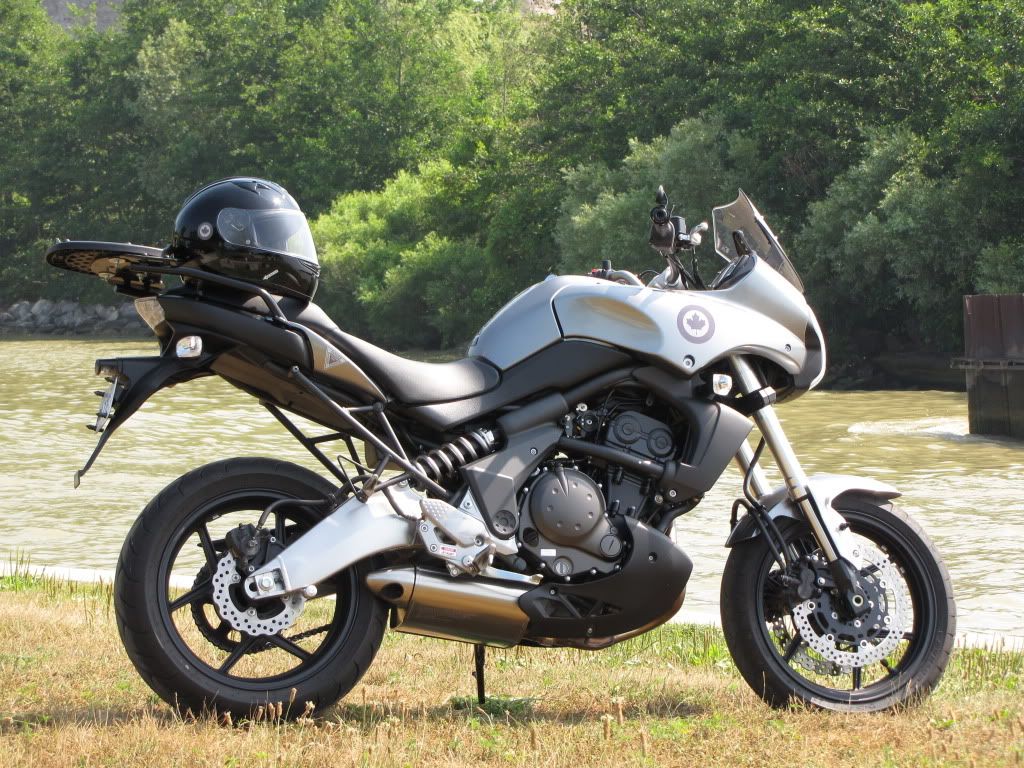 On Ergonomics:
This bike is comfortable. Riding position is upright and the bars are wide and flat. It's a nice reach to all controls and the footpegs fall into position below the hips. The small screen provides fair wind deflection. I felt some buffeting in all 3 adjustable positions, so I flipped the screen upside down and put extra washers at the bottom to tip it out. It works like a charm now, and I think it looks better too. The wide tank cowl provides good protection to the legs. The bike provides a fair mix of wind deflection and air flow around the rider. The dash holds a large analogue tach for revs that sail up to the 10,500 RPM redline. Beside the tach is an LCD screen with a fuel gauge, digital speedo, and a display that cycles thru: clock, odo, and two trip odos. Gauges are well lit at night.
The bike is very tall with about 33 inches between the seat cover and the road. It allows the rider to see well in traffic, but it took some getting used to for stops and low speed manoeuvres. Many riders lower this bike, but I like it tall.
The seat has a bad rep for tipping the rider forward towards the tank. I paid a local seat builder $40 to remove foam from the bottom in the center and the seat has been comfortable ever since.
On Performance:
The 650r Ninja's motor is used here, modified for more grunt low end and less top speed high end. That makes it a great bike for city traffic. There is plenty of power for the highway, spinning about 4,500 rpms at 120 kms/hr. No need to gear down for passing. I usually don't bother with 6th gear unless I'm at or above 100 km/hr, so passing in fifth on the back roads is near instantaneous.
The wide bars allow for good leverage in cornering and counter steering is easy, so the Versys gets into some steep lean angles. The wide flat bars make it awkward for a good tuck. For aggressive riding, I have a lot of fun if I scoot up to the tank and tuck down a bit, lock my knees into the narrow frame, and leave my elbows out and high. I can lever the bars easily and flick the bike around for a great ride. The throttle is pretty forgiving, but with about 60hp, it packs lots of punch when you wring it out.
The Versys is more for "bad roads" than "off road", and there's lots of bad roads around here. Many riders do use the Versys like a dual sport, but the stock tires are definitely meant for the street. With some knobbies, it could take you places, but I've never ventured down anything rougher than some gravel roads. I rode about 80 km of slick, wet, gravel roads in Quebec, and the bike performed well
.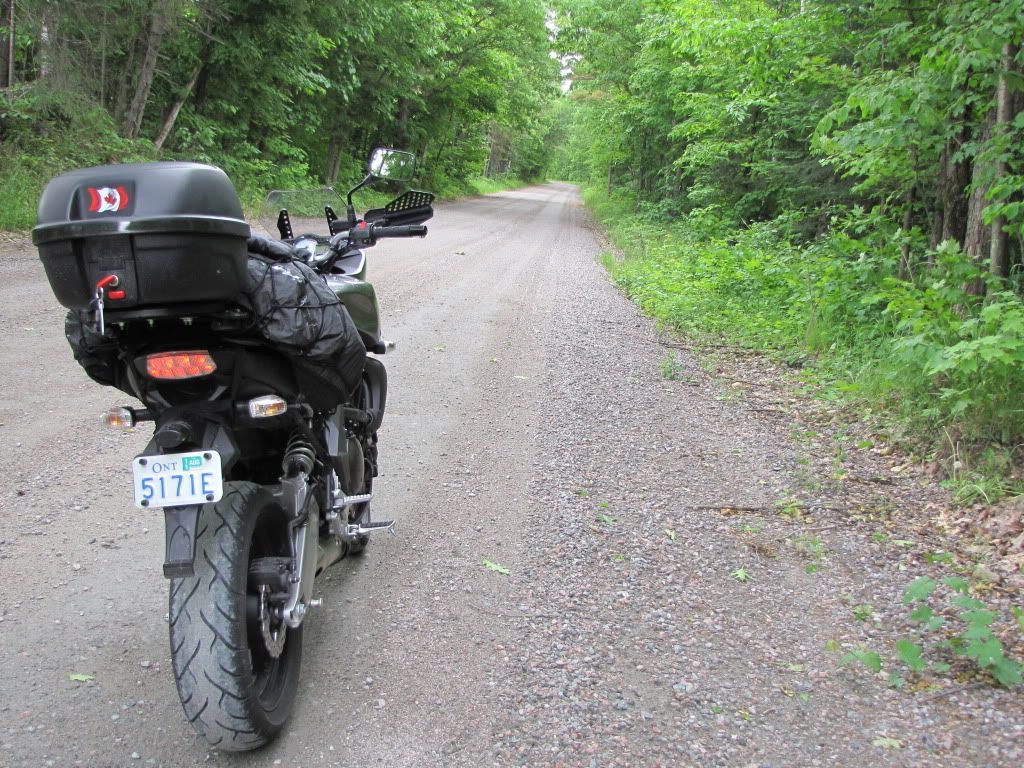 On Luggage:
The under-belly exhaust and trellis sub frame make luggage options, like side cases, an easy and attractive option for the Versys. But, they are expensive options. Racks and plastic side cases will cost about $900, and – to me – they're just not worth that. Soft saddle bags, while not as secure or water proof, are a cheaper option, ranging between $75 and $200.
For my cargo needs, I use a rear rack from SW Motech. The rack frame replaces the passenger grab handles. I mount a 26L Givi top case on the rack. It's about the smallest case they make, but the position on the bike looks terrible. The case sits really high and way out off the rear of the bike. The opening of the case is chest high when I stand behind it. Aesthetics aside, the case is very practical and works extremely well. It is secure, locked, and waterproof. I use it almost every ride, and every day for commuting to work. The rack was about $180, and the case, which I already had on my Ninja 250r, was about $70. So, it is also an affordable way to carry cargo – it's just an ugly set up. Fortunately for me, when I'm on the bike, I don't have to look at it.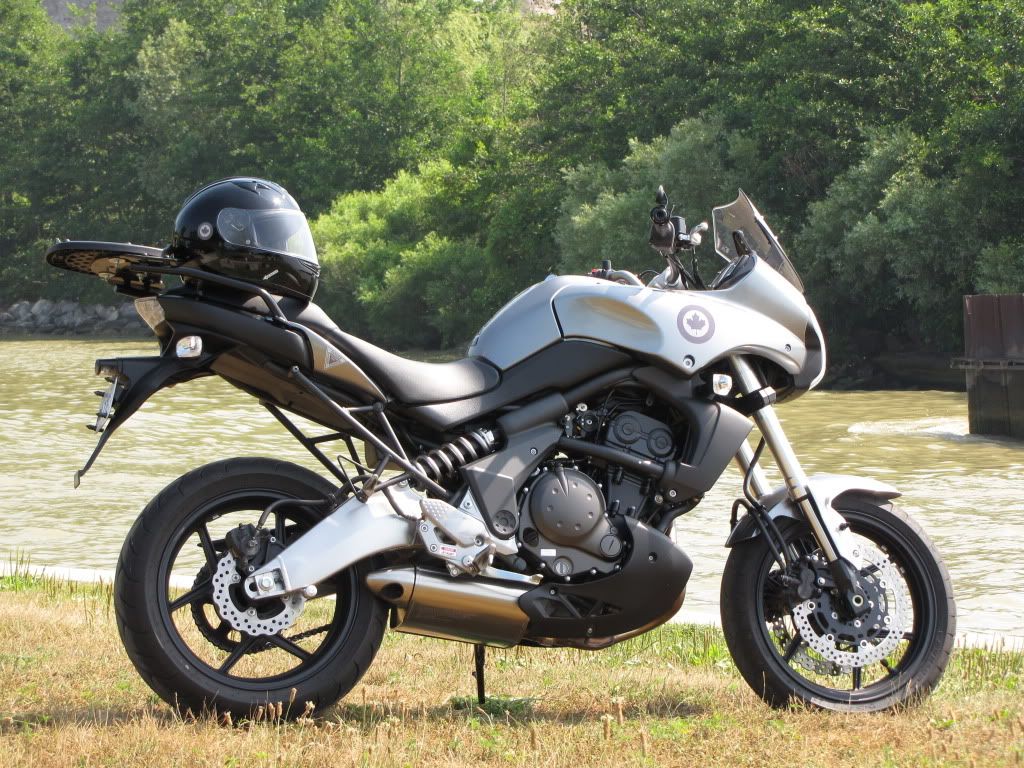 For travelling I add a 52L Gears tailbag. This sits well on the pillion and straps down quick and easy on four corners. It has side pockets and hangs over both sides of the seat to keep the center of gravity low. The rain cover works and holds on at the speeds I ride.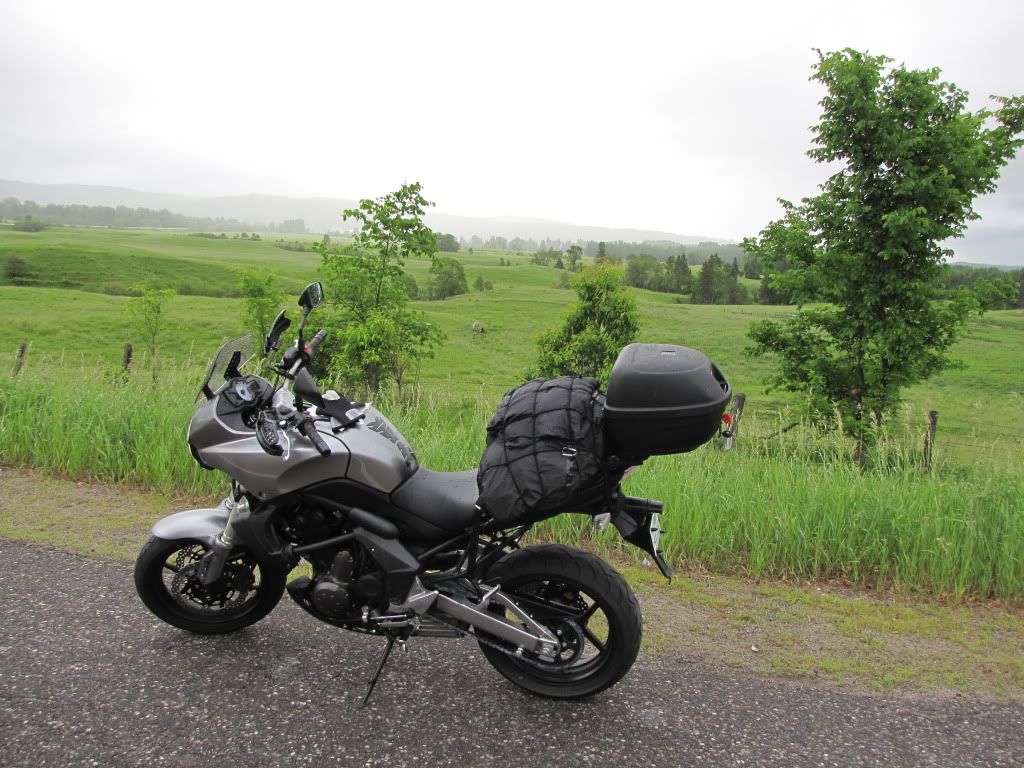 On Travelling:
As stated, I've had the Versys for one full year. Subtract 4 months for last Winter, and I've had the bike on the road for part of 2 seasons, 8 months in total and I have 10,600 kms on the odo. I ride the bike 25kms round trip to commute to work whenever I can. I take the long way home on really nice days. I do lots of short rides – an hour or 3 –on my days off. I do group rides for the day with my neighbours (5 of us have bikes) and I do poker runs and day rides with my Canadian Army Veterans Motorcycle Unit.
I did one 5 day trip across Southern Ontario this past June. I covered about 1,800 kms on three days of riding. I had some rain, but mostly good weather. I hit a few unexpected gravel roads, and I have never seen the bike so dirty! But the trip was an absolute blast. I loved every minute I was riding.
On Fuel:
Kawasaki says I should be getting 63 MPG. In the real world, I get about 55 MPG, using about 5L of fuel for every 100km. The bike has a 19L tank. That provides a max range of 380 kms. The fuel gauge is fairly accurate and the "Low Fuel" starts flashing at 320 kms. I usually fuel up just after the 300 mark and get around 15 L in. That costs me about 18 or 19 $s. I run only regular gas.
On Reliability:
I've not had one problem. I run regular 87 octane gas. I use a new Fram filter and CT dinosaur oil every 4,000 km. I got a nail in my back tire at 9,500 km. I repaired that myself with a single cord plug which has held up great. I plan to ride it out to tire replacement. The stock Dunlops are holding up well. I expect to hit at least 13 or 14,000 km on the rear, and the front still looks new. I clean and lube the chain as needed between 500 and 1000 km. I clean with WD40 and lube with Bel-Ray.