Discussion Starter
·
#1
·
So I know I haven't posted in a mad long while, but give me a break, I've been riding, going to college, having a job, friends, a girlfriend, and basically enjoying life.
It Sucks I have to come back with bad news, but it's cool, cause there's plenty of good news to balance it out.
So anyway here it is.
A couple weeks ago (March 26th to be exact) I was involved in an accident. After coming home from school for spring break, I went over to my girlfriends house to chill for a while, but, remembering I had to sign up for a teaching exam, I sped off home. After registering, I decided, you know what, it's the first night of my spring break, it's warming up, the roads are drying off, I'll go for a nice nighttime ride to clear my head and start this break off right.
So I gear up ( Jacket, pants, boots, gloves HELMET, thank god it was chilly enough for me to still wanna wear that jacket) and head out. I leave my neighborhood, head down some back roads I think nobody's gonna be out on, plus they're recently paved and SOOOO smooth and swoopy. So I'm toodling along, minding my own beeswax, maybe 45-50, when I see headlights. F*cking headlights.
So they pull up on the side of the road maybe 100-125 feet down the road from me, and I'm like no way is this joker pulling out, he HAS to see me. It's NIGHT. I have this bright ass headlight shining RIGHT in his eyes. Well mind you this was a shadier part of town, sorta out in the country more, and not where the best of people live, or the best of things are done. So anyway, I'm assuming this guy had been doing some of these shadier things, cause he keeps a comin right out in front of me, turning left to travel the opposite direction I'm headed. So there's this four door sedan where my beautiful open road used to be, and I'm thinking SHIT SHIT SHIT SHIT. That's about the last clear thought I had, but basically what happened was I thought he was gonna stop, so I went into the other lane to go around, and he thought I was gonna keep going straight, and kept coming. So my bike slams the front right of his car, and I'm thrown maybe 10 feet in the air off into a field on the side of the road, which, luckily, was all green grass and soft dirt.
SO when I stop spinning and tumbling I see this... (Bike carnage below, not for the faint of heart, lol)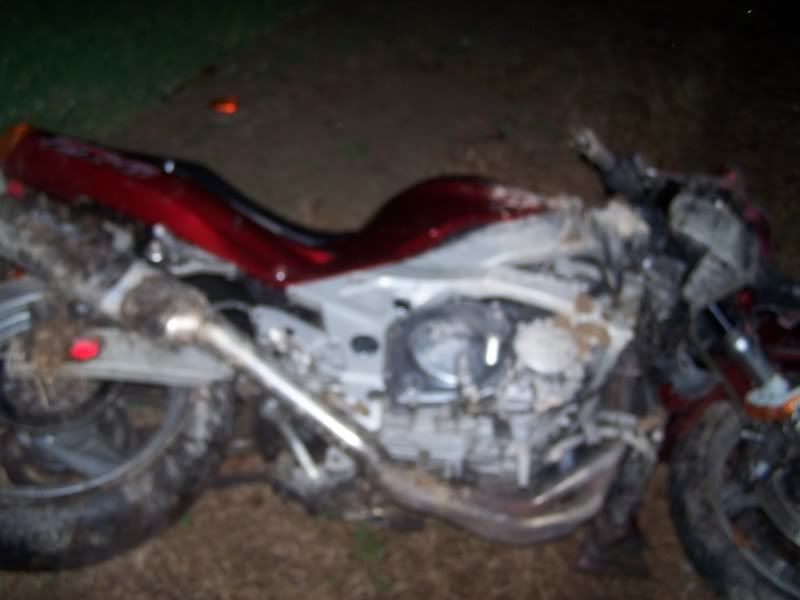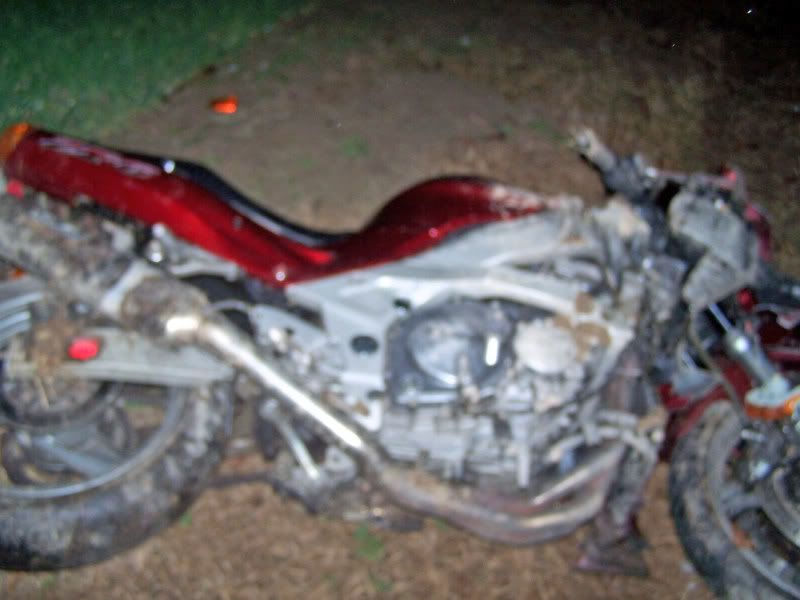 Now don't worry about me, the worst injury I had was a scraped shin (very lightly) and sore balls, yes, my balls, I think I smashed them on the tank going from 50 to stop in .0002 seconds.
Here's Me... cheesin like a mofo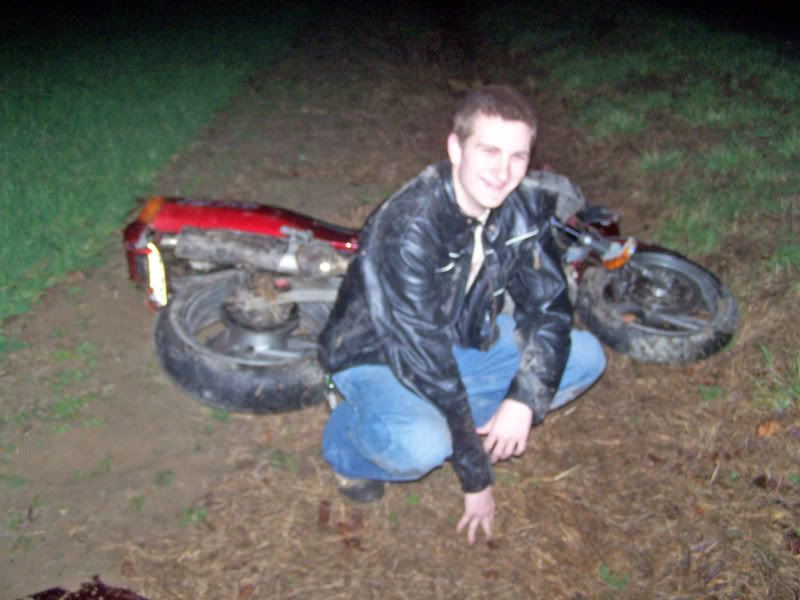 Loadin Up the Bike...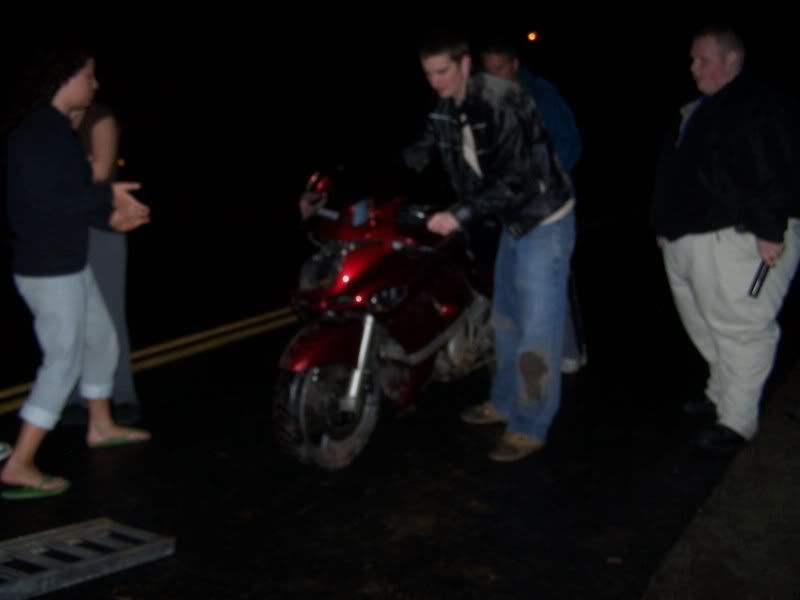 Now the shitty thing was, before I got all the way back to normal, I heard this loud whining sound, which, compared to the sound of the car backing off the road when they moved it, makes me think the dude tried to bail on me. I mean I turned out to be fine, but I could have been SERIOUSLY f*cked up. I don't care if it's your fault. I don't care what you wre doing. If I'm down, FUCKING HELP ME.
Anyway, the other shitty thing was, when I walked up to the road, there were like three other people with this dude, but by the time the cops got there, only the driver was left. Shady right?
Well anyway, to wrap it up, it wasn't even this guys car, but they did have insurance so that was cool. I think the real owner showed up, and I think one of em got hauled off for disorderly conduct cause they were about to get in a fight over this dude wrecking a car he wasn't supposed to be driving.
But anyway, I called my insurance, spent the next few days on and off the phone with insurance companies, muscle relaxers from my wonderful step mom, and a little bit of something else from a good friend of mine, and came out with $3115 from the wonderful GEICO Ins. Co. Thank you!
So for anyone interested, here's the pics after I stripped it down.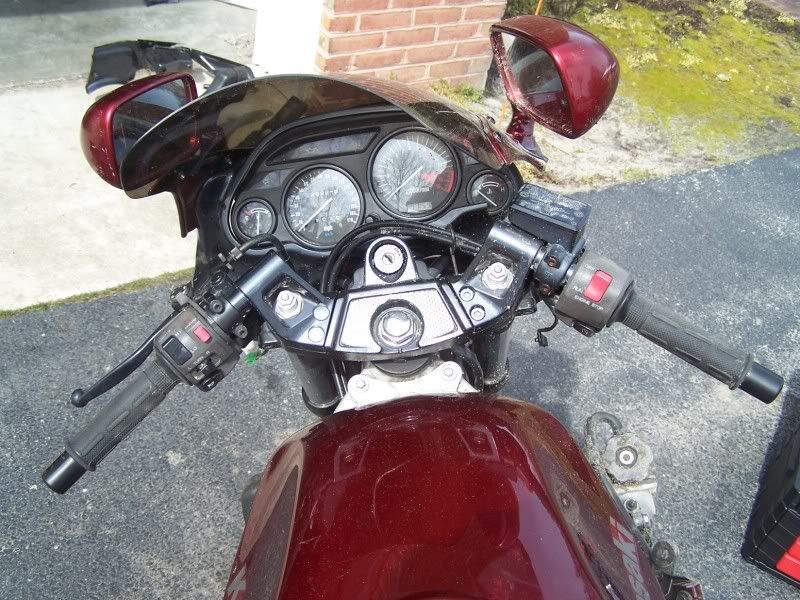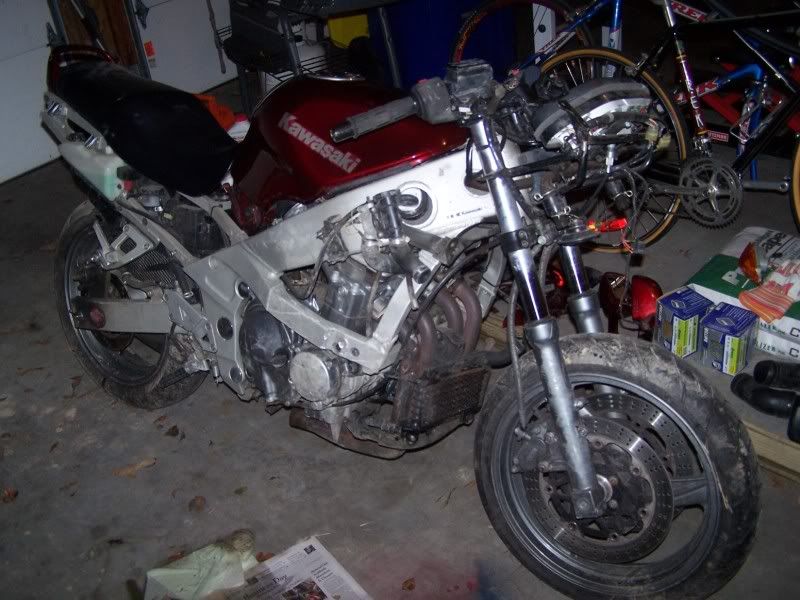 It ended up having a cracked frame on both sides, so I didn't mind letting it go. But I did get to ride it around a little while before they took it out, exhaust straight outta the headers, mean as a MOFO!
So that's all the bad news.
Now the good....
I went up to southeastern New Jersey exactly two weeks after the wreck and brought back this...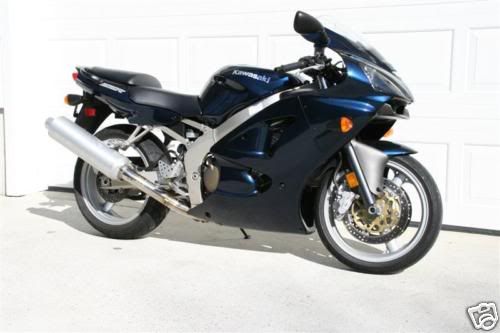 2005 ZZR600, Ocean Blue, 4303 miles paid $4200, I think that;s pretty fair, and it was 1200 below blue book
I don't have any pics of my own, that's just off the ebay listing, but I'll put some up that show off the sweet new slip-on I bought for it.
So there's my first post back in a while, really sorry about the length, but I wanted to tell my story too, thanks for reading if you made it this far!