Discussion Starter
·
#1
·
Sigh....was out riding with a very responsible, advanced group of older riders, and loving it. Have to admit I was pushing it a bit before lunch, but was learning from doing that (keeping the throttle steady through turns, really leaning into them, etc.) After lunch, we started off again, went through two turns and then on the third, I realized I was going into it too hot, but by that time, it was too late. So I did the only thing I could do, and leaned it hard. I should mention, it was a downhill, decreasing radius turn that was banked.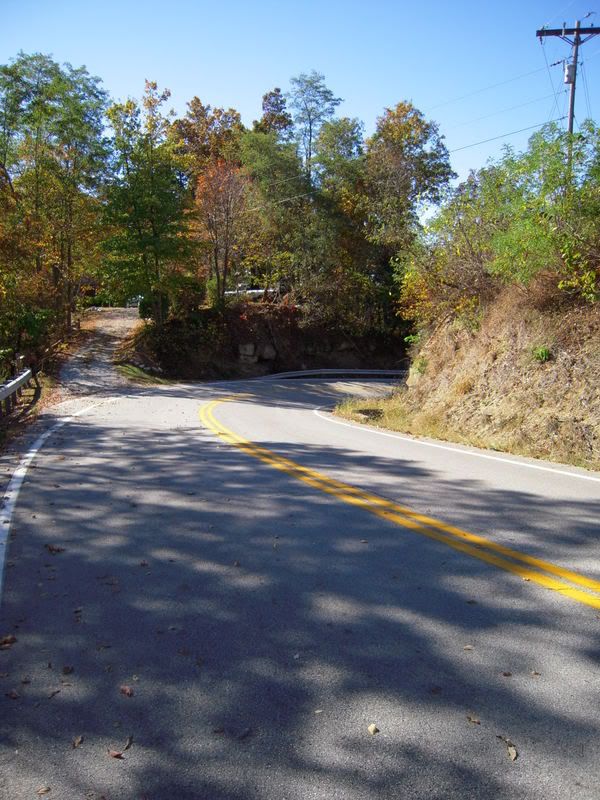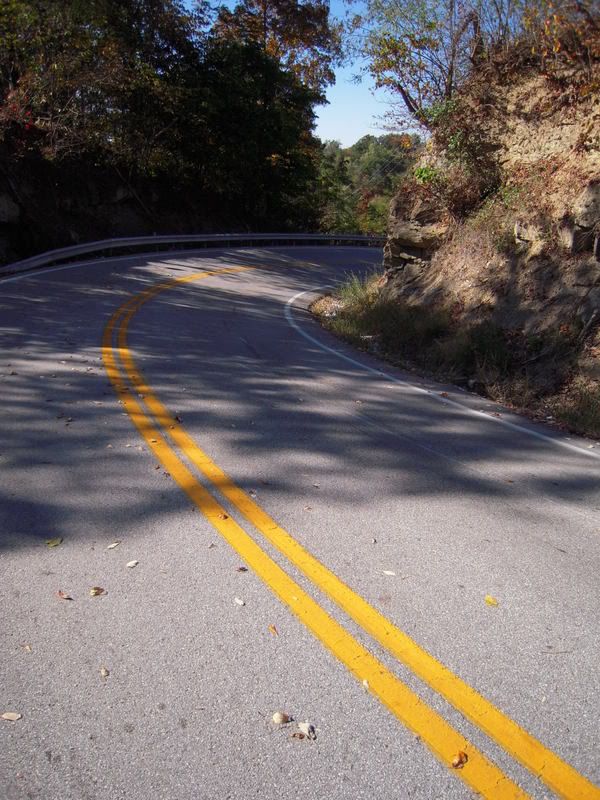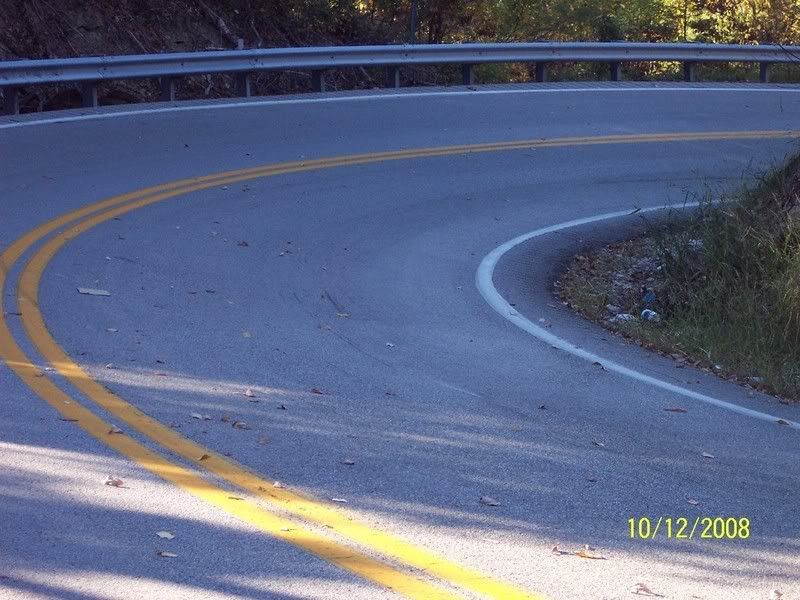 So anyways, as the thought registered that I was going in too hot, and leaned it hard, then I heard scraping, and then I blacked out. I woke up to see the guy that was riding behind me, standing over me, trying to wake me up and telling me not to move. He later said that I was laying there with my eyes wide open, not moving at all (which I think I remember...b/c I remember getting flashes of pictures and it was like fighting my way out of a dream) and then he said when I woke up, I just started shaking everywhere.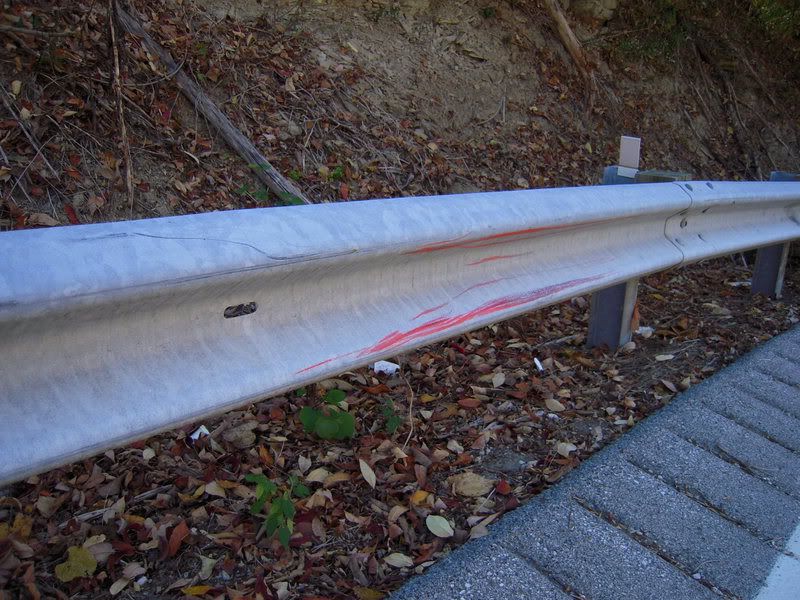 Pretty much, somehow the bike lost grip, probably a combination of the weight being on the front end b/c of the turn, maybe the tires didn't have the exact amount of pressure they needed to have, maybe I needed to adjust the suspension, maybe I leaned it too hard and something touched and lifted up the bike that tiniest bit, which made the rear tire get loose...sigh, no idea what caused it. But anyways, it low-sided, and sent both of us flying across the road, into the guardrail, and then the bike continued on down the road.
When I woke up, one leg was bent up, caught on part of the guardrail, and the other leg was straight. I thought for sure I'd broken my left leg and left arm b/c they were hurting so bad. I don't remember much other than people telling me not to move and I kept trying to, and I sat up, looking for my bike. And then I really started crying when I saw it laying down the road, with pieces scattered all over the road. Don't know when the ambulance got there, but I'm guessing they took off my jacket and helmet...put me on the backboard and put a neck brace on, all that jazz. Heard them say to have the helicopter on standby, which really freaked me out.
(My bike, after the guys picked it up and were able to push it up the road, waiting on AAA)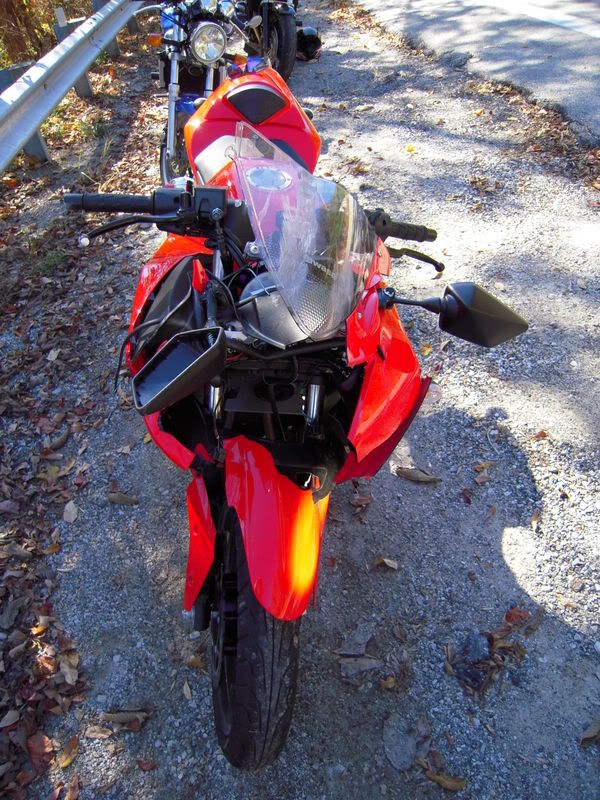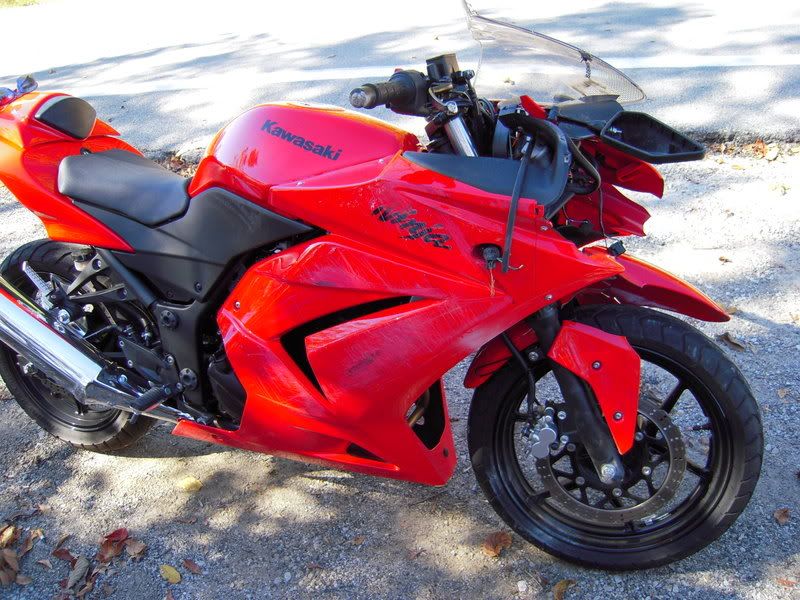 So they took me to the hospital and on the way, cut my jeans up which upset me, lol, they were my favorite jeans! But I get that they had to check my leg. Haha, and the lady in the ambulance asked if there was any chance I could be pregnant, and me, still crying, was like, "Noooo, I'm marriiiieedddddd." Hehe, she and her partner were cracking up! LOL
Got to the hospital, they did a cat scan to make sure the head was fine, then did xrays on the leg and the ribs, which were all hurting a lot. They couldn't find anything wrong which was great, just had several good sized bumps and bruises and a few scrapes. My jacket, which was textile, had a whole in the right arm, so I had a tiny scrape over there, but surprisingly, my jeans didn't rip at all, which I still don't understand, but I'm grateful for. So now I'm just recouping, taking drugs for the aches and pains. It's mostly my ribs that are hurting, although I still don't know why they hurt, b/c according to my buddy, I didn't hit the guardrail with anything other than my legs so who knows.
Sigh, and of course, the worst part is that my poor baby is a complete mess, but I know, considering all of it, it could have been much worse. I'm lucky that no one was coming the opposite direction, I'm lucky I was wearing the gear I was, and that there was a guardrail there to stop me....so many things could have been different. So anyways, when I do get the bike fixed, I'll be riding it in full leathers, b/c I'm not chancing losing any skin or wearing jeans when I'm riding hard.
And my bike, now that I've got it back at the house: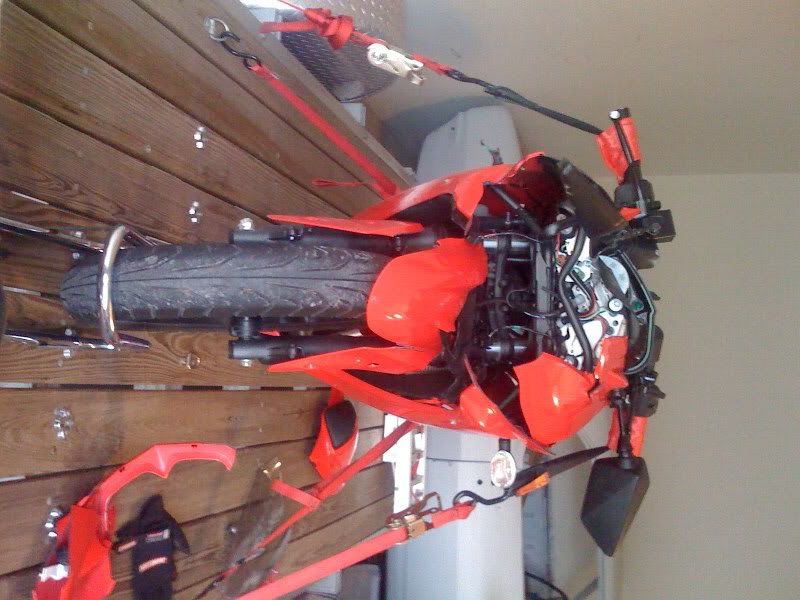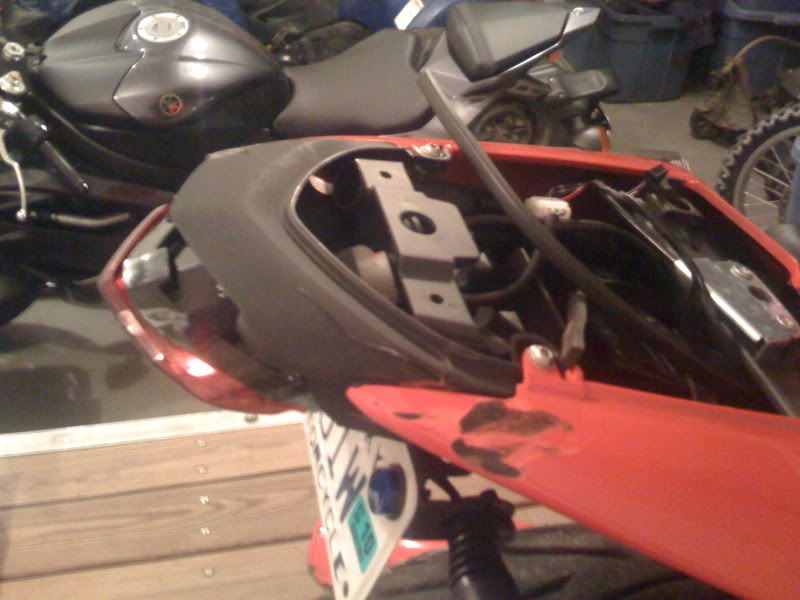 My windshield got so hot from scraping the slab, that it melted and warped....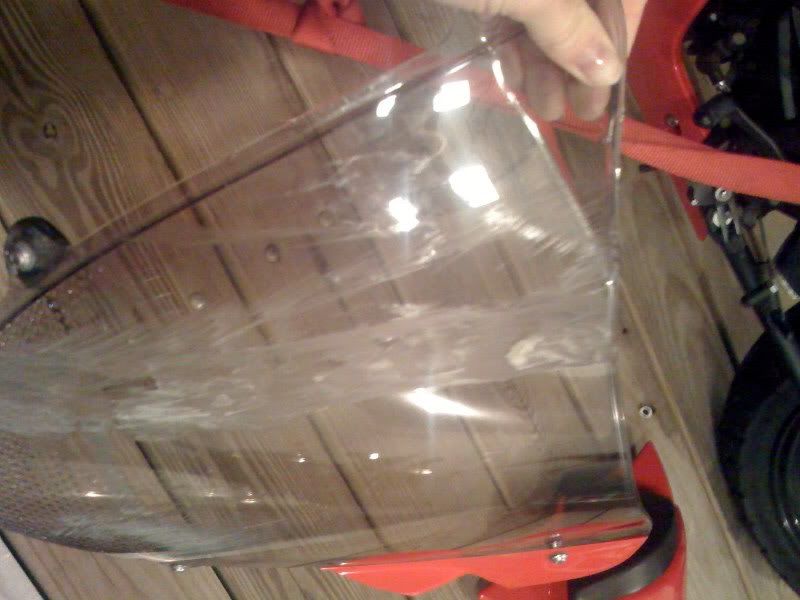 Arrg, the brand new, only on a week and this was the first ride, rear cowling...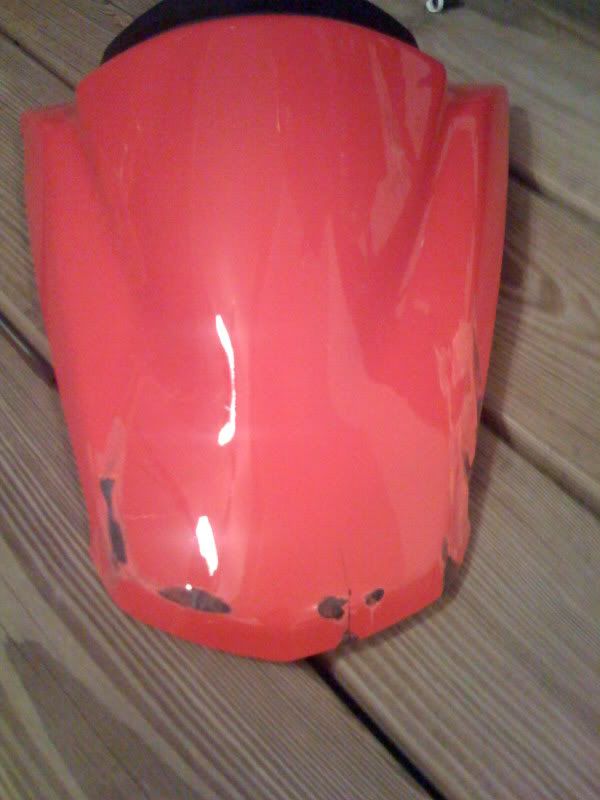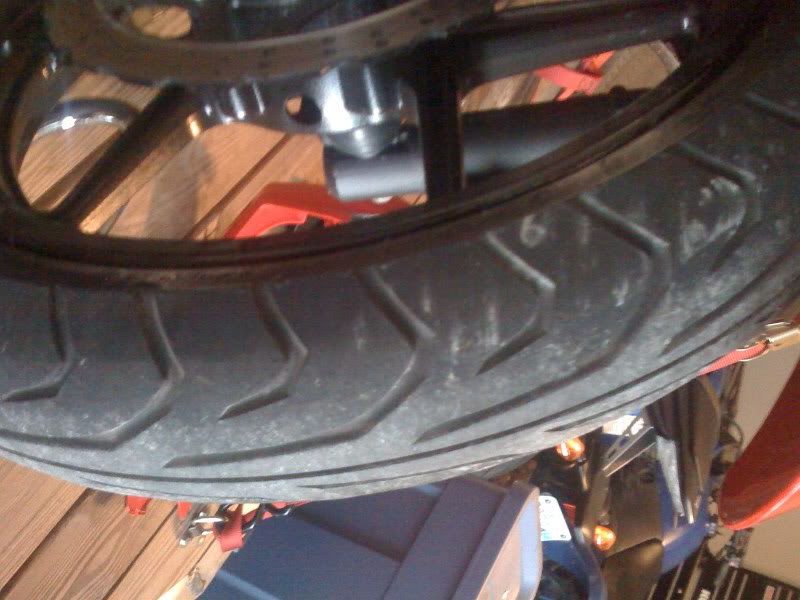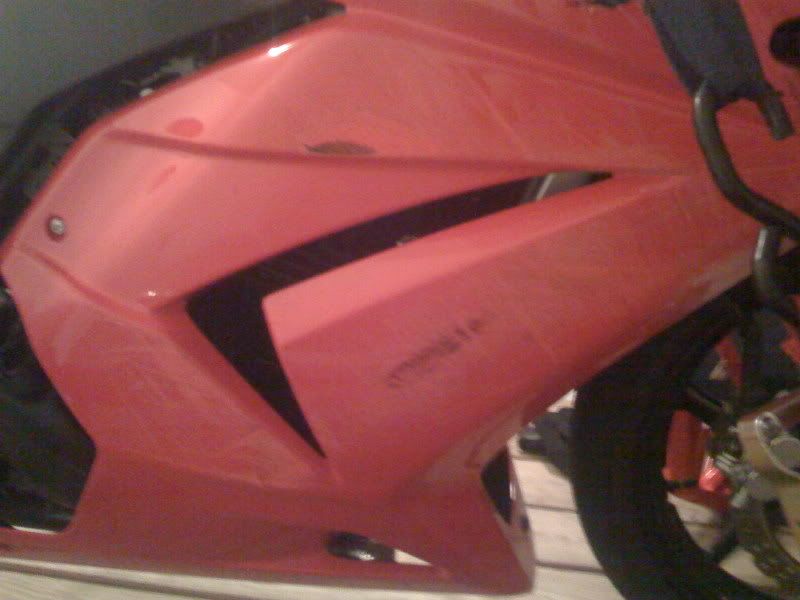 Sigh...my poor crumpled up baby...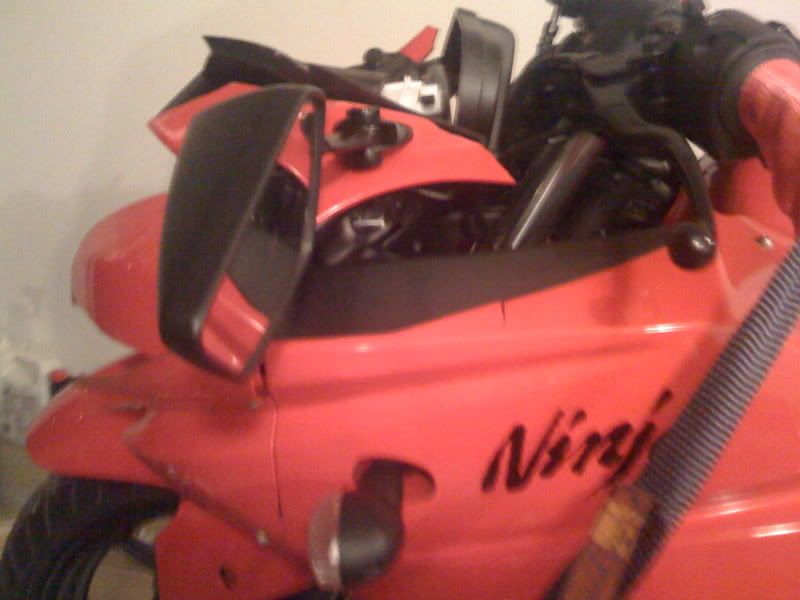 The thing that stuck out to me the most, throughout all of this, was that I'd chosen a really great group of people to ride with. They were all experienced, responsible, and mature riders. They all have given me great feedback, and have offered their help and support in numerous ways. They even came to the hospital, and sat me with me until my husband got there. I couldn't have found a better group of people to ride with, and I wish that everyone had a group like this (hehe, just don't steal mine!). And my incident has inspired the few guys in the group who don't have full leathers (myself included) to look into buying them, so that's great too. All in all, I'm a lucky girl, and hopefully in a few days, I'll be feeling even better! But I'll be feeling the best of course, when my baby is back on the road again!