Discussion Starter
·
#1
·
...new on this forum been around for a little while just joined and wanted to check in as new.
Long time Ducati rider and have a HD too...don't be hatin, j/k. I had a Ninja 500 years ago and loved that bike, put a lot of time and effort into it but then sold it thinking it was time to move up. Well I regretted it, especially since someone in town here where I live bought it so I was seeing it periodically. So I had been wanting to get back on a Kawasaki again and picked up this ZX10r last month.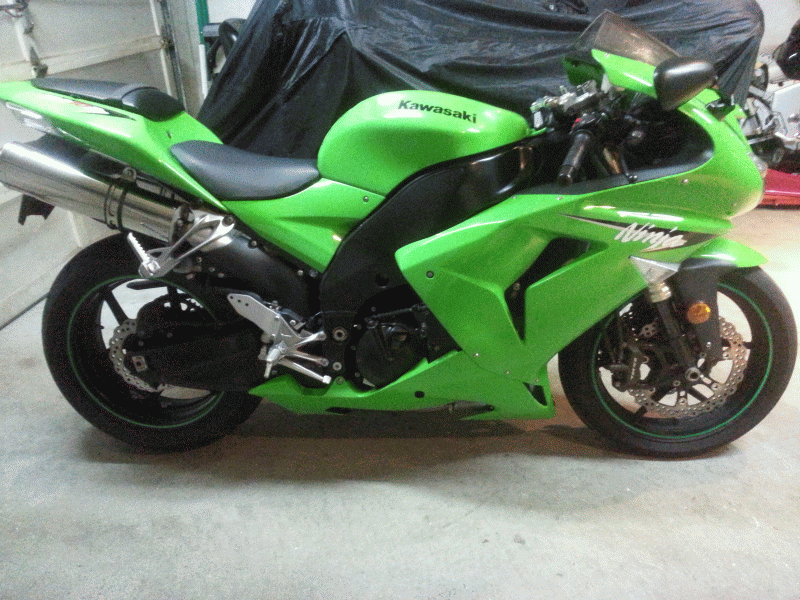 It has 3,954 miles on it and lived it's life outside under a cover but now it has a heated room with all the amenities, you might say, It needed a battery and somebody to care about it amongst other things.
I started going about making it look like it's only got that low mileage from replacing rusty hardware to new sprockets and chain, (I've never seen a chain look like this one did),going to -1/+2. Flushed and replaced brake fluid changed the oil and air filter removed the exhaust vlv and added a servo buddy. Replaced the stock dog bones with a set shorter by 25mm from Lust Racing. Did a tail tidy and removed the Scorpion bolt ons and while they look new I think I want to try something different. I removed the stock decals and replaced with my own and swapped out the turns and tail light with smoked. I'm waiting on an LSL riser kit and swapped out the front pegs with a set off offset pegs making them 40mm lower. The rear pegs and hangers I swapped out with a set of black oem. I picked up a set of mirror block off plates and will just go with bar ends. Polished the body and frame with a PC 7424 and Klassed it all up. It's become more of a winter project now and I doubt I'll ride it until early spring.
Here it is now not looking too much different but next week hopefully if the local shop can fit me in it's going in for new tires and powder coating the wheels
So that's it and hopefully I can learn a few things up in here and pass on a few too. Sorry if my post was too long I'm just very excited about having another Ninja.