Discussion Starter
·
#1
·
Well I must admit that I was a little surprised that this mod has not already been posted as it has been mentioned a few times, but I couldn't find and didn't know what it was! Unfortunatley, I had to spread my search to include other websites, something I thought I would never have to do!!!
So, what is the Kleen air system, and what does it do?.......I can't really say, because I'm not a mechanic!!!!! Ask someone like Spooph! ;D
The reason I did this mod was because of too much snap,crackle and pop when off the throttle after my new exhaust mod. Apparently the Kleen air system injects air into the exhaust to help burn off excess fumes/fuel(please feel free to correct me and I will change as needed.)
What really surprised me was how easy this mod is to do, even for someone with no mechanical experience. This is basically on par with removing the snorkel!!
Items needed for mod: - tools to remove fairings and fuel tank
- 5mm vacuum plugs
- 1/2" water caps x 2
Time frame - about 1 hour - And I was very careful!
Get yourself set up, I found if you have good music, your computer ready and skittles, everything works well!! Excuse the messy shed!
You can see my next project is waiting for me(BBQ!) Thats for the weekend!
Obviously, the first thing to do is make sure your ninjette is warm before you start taking her clothes off!
Start by removing the hose that mounts to the top of the air box
Keep the gold clip.
Follow the hose towards the front of the bike and remove from that end, keeping the gold clip again.
You will be left with this.
Whatever this thing is, it has to go also, and the connected hoses and bracket will also be removed. The thinner vacuum hose leads to a t-junction that branches to the carbie and the fuel tank. Block this off with a 5mm vacuum cap. (Sorry, no pic!)
You will now have two open ports on the engine and the airbox, cap these off with the 1/2" water caps using the gold clips you kept from earlier to hold them in place.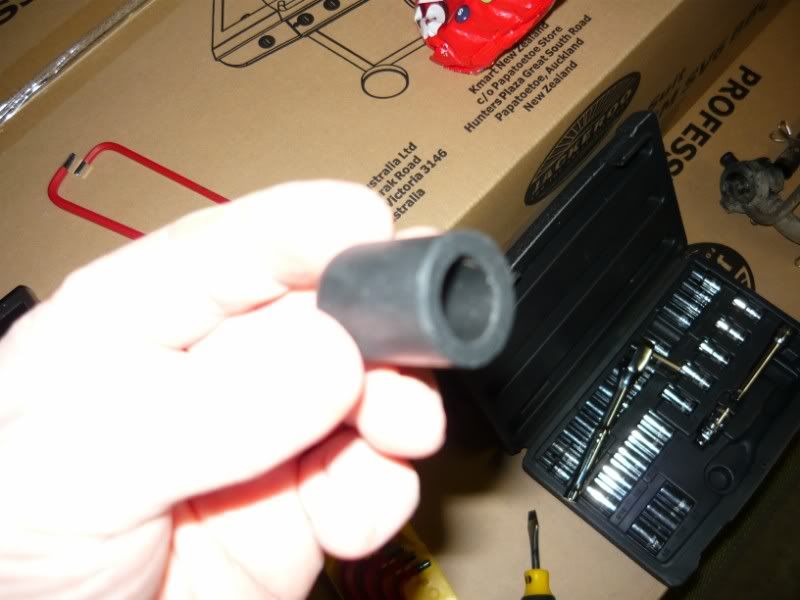 And you're done! Put everything backtogether and make sure it runs!!!!
You should have something like this left over.
Hopefully this will work! It was a bit late when I finished, so will do an update and video on the weekend
If you have any questions, don't hesitate to ask someone else!!!!! ;D, cause I can pretty much guarantee I won't know the answer!!
Apologies to Indie, who thought he would have to help me on this one, bad luck Princess!!