Discussion Starter
·
#1
·
Okay, first thing, I'm sorry about the pics. They're off my cell, but I just wanna have some kind of image of my work.
So I finally got some mods done on my bike, pretty good if I say so myself. My friend came over Friday night and we went to town on the bike. To put the flush mounts on I have to take the old ones off, so that means the whole fairing comes off. So I ended up having to remove the windscreen, the whole top front fairing, and the whole headlight housing. With the way the signals connect, I had to cut and splice the old wires into it. That was the first time I ever did anything like that, but my friend works HVAC and has the basics down. SO we spliced up both sides and put the thing back together. *A note to other ZZR owners or anyone interested in a great comfortable sportbike: Putting the fairing back toether is a bitch. I had me, my friend, and then my dad just shining a shop light so we can see. You REALLY want to have someone help you with this, seriously it's a pain.* So anyway I got them hooked up and here it is...
The next thing I got done was the fender chop. I basically took a hacksaw the first go through and sawed it off under the plate. Then today I went to Wal Mart and bought myself a Dremmel as a late birthday present. Come to find out, we already had one, but it was missing the part, and what the hell, it's the first tool I ever bought myself, and it's nice not having to be borrowing my dad's stuff. So anyway I spent a good couple hours or so today on and off just cutting and sanding and cleaning the fairing up. This picture I have is of the work I did with the saw, but when I find the camera I'll get pics of the latest edition. It's basically just mounted all the way up right underneath the tailight. I jsut bolted the bottom of the license plate to the bracket instead of the top, and cut away.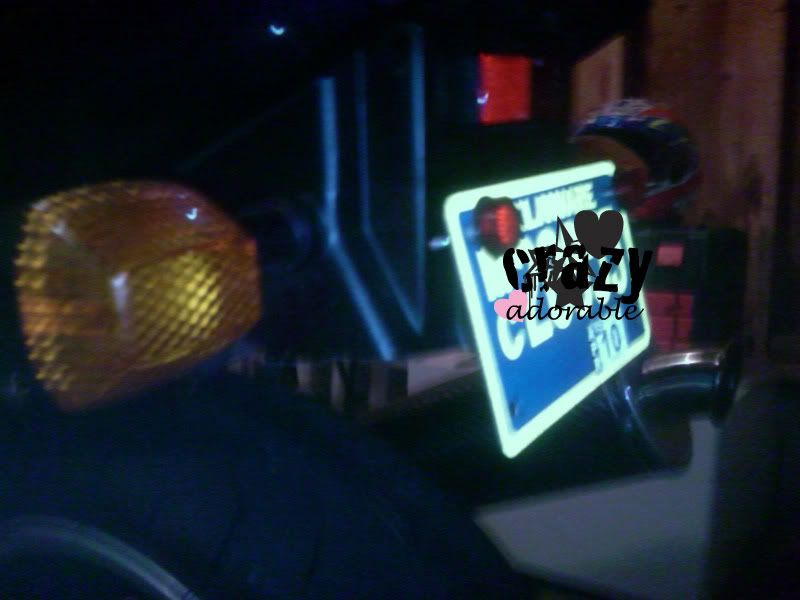 Here's my Carbon Fiber Viper Racing can from
www.flyncycle.com
http://
http://
http://
http://
. Really high quality can, only 280 with shipping, excellent shop too. Would highly recommend.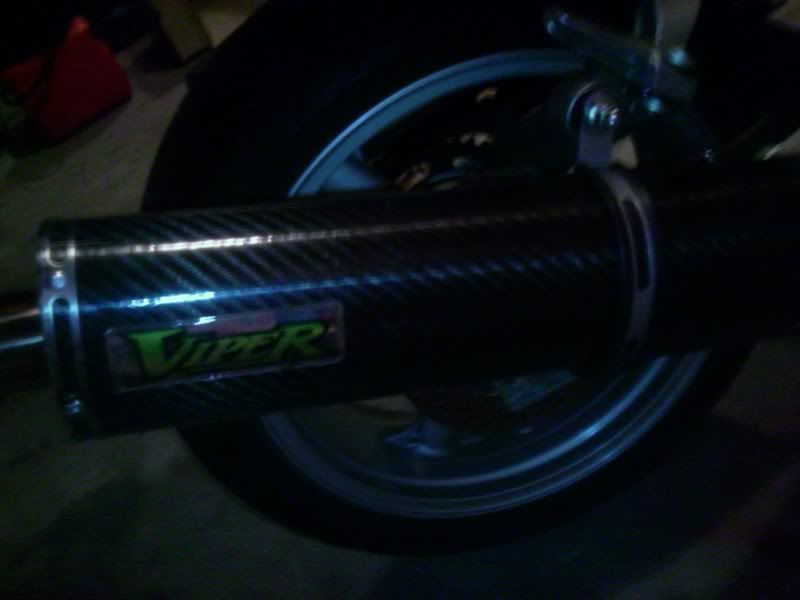 Other mods I have, basically just a pro-grip tank protector.
What I want soon:
1. Pazzo levers, gold, shorty both sides, blue selector.
http://www.pazzoracing.com/products.html
2. Double Bubble Windscreen, I think I decided on Puig...
http://www.kneedraggers.com/details/Puig_Racing_Windscreens_Kawasaki_ZX6R--52-PUIG-24.html
3. ColorMatch Hotbodies Undertail (Ordered next week after my paycheck)
http://www.morepoweracing.com/Sportbike-Body-Parts/Undertails/Hotbodies-Racing-Undertails/KAWASAKI/ZZR600/2005-2009/c-1-508-3441-42211-44045-44055-44083/
4. Integrated, clear lens, l.e.d. tailight (possibly ordered dthis week)
http://cgi.ebay.com/ebaymotors/ws/eBayISAPI.dll?ViewItem&item=220402473424&sspagename=STRK%3AMEWAX%3AIT&viewitem=
5.C.F. or black Hugger
http://www.powerbronze.co.uk/shop/Product.aspx?PROD_ID=822920&MC_ID=818253
6.Grip Pads
http://www.techspec-usa.com/
7. Kevlar Brake Lines (Ooooh)
http://www.morepoweracing.com/product.asp?strPageHistory=category&numSearchStartRecord=0&strParents=30027%2C1515%2C1516%2C1580%2C1986%2C1584&CAT_ID=1584&P_ID=2513&btnProduct=More+Details
8. (Pending seller question) 520 Chain kit, +2 rear sprocket
http://cgi.ebay.com/ebaymotors/ws/eBayISAPI.dll?ViewItem&ssPageName=STRK:MEWAX:IT&item=330330096760
Stuff I bought:
Signals:
http://cgi.ebay.com/ebaymotors/ws/eBayISAPI.dll?ViewItem&item=270382731288&sspagename=STRK%3AMEWNX%3AIT&viewitem=
Tank Pad:
http://cgi.ebay.com/ebaymotors/ws/eBayISAPI.dll?ViewItem&item=260403243984&sspagename=STRK%3AMEWNX%3AIT&viewitem=
(Both were cheap, signals $22, Tank pad $5! I'm sure they have more)
Remember, more pics to come soon! Better too, trust me!