Discussion Starter
·
#1
·
I was lucky enough to be able to ride down to Phillip Island for the MotoGP this year. I'm not really a die-hard fan but I take a casual interest. What I was most looking forward to was the actual journey and giving my bike a nice long run. It's a 340km round trip for me so I thought it would do the bike good.
I met a friend at his house at about 5:45am then we headed down to McDonalds to meet another mate and had breakfast. At about 6:30am the three of us left for Phillip Island. The weather was a bit cold (about 8 degress Celcius) but thankfully it wasn't windy and it didn't rain.
After a while I noticed the number of bikes on the road was climbing. Some rode past like I was standing still while others were just happy to cruise. With about half way left to go we stopped at a service station for a coffee and they wanted to top up their bikes. My Ninja was fine though, it didn't need a drink yet
.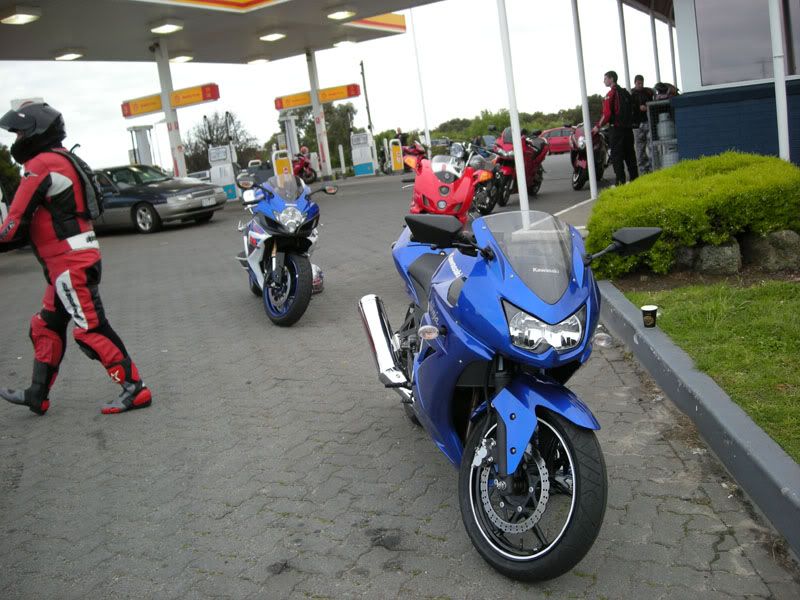 The GSX-R600 and Ducati 999 were with me. As you can see there were a few riders that had stopped there as well.
My Ninja again
By the time we got to within about 20km of the island there were bikes everywhere. At one stage I counted twenty bikes directly in front of me with countless more behind me. It was a really great atmosphere. Bikes outnumbered cars - this only happens once a year here.
As far as the race went - it was okay. We only had general admission tickets ($90 each) so we couldn't get on to the grandstands. The view was okay though.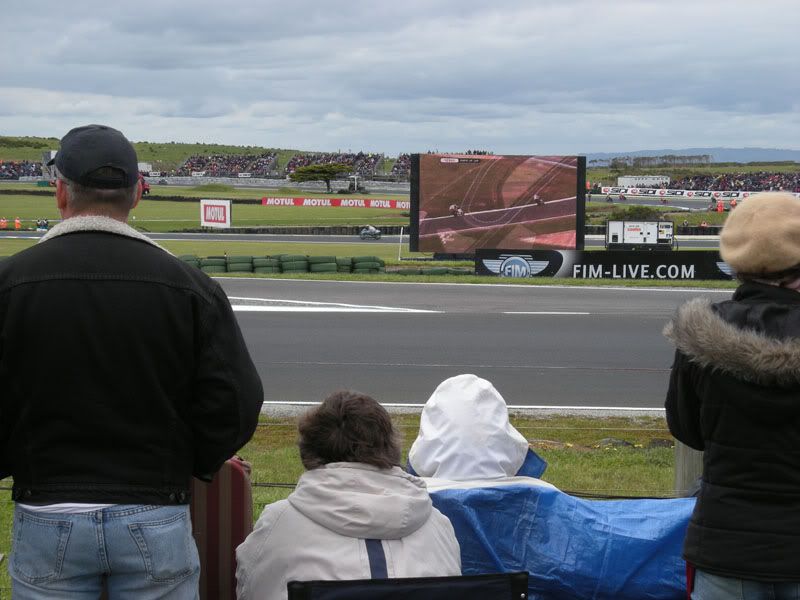 It doesn't look like much in the picture, but from here we could see nearly half the track. This was at turn 1.
After Stoner won it was time to go. This is where it was really fun. Some people came to the island on Thursday, Friday and Saturday to see all the practice sessions and qualifying sessions with most riding in on the day of the race (Sunday), but when it was time to go, everybody leaves at the same time. Thousands of bikes!
This was the parking lot. In real life it looked ten times bigger.
The ride back was great. Bikes had the right of way and we were pretty much permitted to ride how we wanted as long as we weren't being completely stupid. Overtaking, lane splitting, exceeding the speed limit, it didn't matter, the cops let you do it (and the police presence was huge). There must have been thousands of people by the side of road watching and waving as we rode by. Some guy had a sign saying 'do a mono' but I don't think anyone did. A couple of girls flashed us (heh). Kids were waving Australian flags. It felt like a parade - a parade moving at 120km/h and terrorising every cager on the road.
While riding back I saw just about about every make and every model with every conceivable mod. Ducs, Gixxers, CBRs, Daytonas, lots of R1s, Harleys, Ninjas (I saw a couple of 250 Ninjas). Sportsbikes, cruisers, tourers, even a few scooters. The noise coming from all these bikes was incredible.
We didn't stop on the way home so by the time we got back my ass was numb, my neck hurt a bit, I was cold and tired. But it was the best experience I have ever had on a motorcycle. For me it was more about the journey than the destination and in that regard it didn't disappoint one bit. The little Ninja had done well. I rode quite hard at times and it still done 340km using only 14 litres. Up and back without refuelling. Not many riders can say they did that!
The superbikes are coming to the island in March so I think we've already decided we'll be going (the weather will be better too).
I'm looking forward to it already.