Discussion Starter
·
#1
·
Well I've been collecting bits for the last few weeks for my second round of mods. Did them over the last two days as I was in no rush. Few pics and a vid then details.
My workshop, laptop at the ready, comfy workshop chair.
Exhaust hanger
Exhaust hanger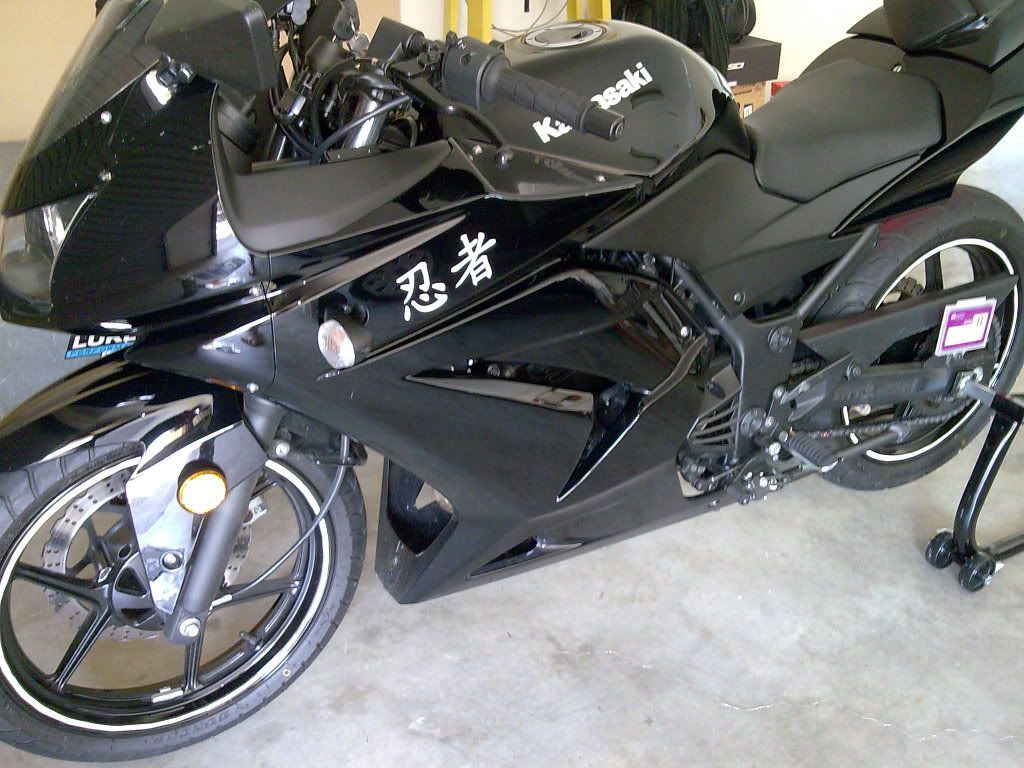 Strips and Kanji decal
LED's with brakes on (handy glove
)
Tail light only
http://www.youtube.com/watch?v=LZAZNK2tj2I
(Not sure if vid is up and working yet, still waiting for youtube approval)
Ok details.
Zartans excellent new exhaust hanger! I sprayed it matt black, think it came out great. Really cleans the back of the bike up! Plus takes about 1kg off total weight
Can highly recommend this bit of kit, was a breeze to install and makes the bike look lots less cluttered. Massive REP for Zartan on this.
Targa fender eliminator. Good bit of kit, aweful instructions. The content of the instructions is fine its more the delivery. No pics and a pretty poor exploded diagram means there is a little guess work. Also the ABS trim bits that you stick on at the end are crap. Might also replace the number plate light with a smaller one in each corner. LOVE the final look, 100% more sports bike, less scooter.
Ninja kanji decals... not 100% on these ones yet, either keeping them, binning them or getting smaller ones and running them vertically lower down, similar place to the busa kanji.
White reflective rim stripes. DO NOT ATTEMPT TO INSTALL AFTER DRINKING THE NIGHT BEFORE. At night, while moving or from a distance these look fine. Get up close and you can tell I had a bad case of the shakes. Considering one of three things, leave them as is, remove them and replace with black ones that are reflective at night (and hides my DT's), or getting new ones with the special applicator tool for alco's.
After brutally destroying the ninja tank protector through my own stupidity I've replaced it with a new one. Still not 100% happy with this one, its as if nothing wants to adhere to the tank?!?!
Finally, secondry set of LED brake lights and tail light. These are waterproof all in one 24 led strips. Pretty happy with how they look, not 100% on the way I've installed them, but time will tell if they stay on. I have a back up plan if they come off anyway. All wiring is so
L
dered, yes thats right americans, there is a L in the word solder not soder
Let us know what you all think.
Nah to start collect bits for round 3
Felix