Discussion Starter
·
#1
·
Not long ago I posted about breaking the MPS/F 250/4 record going 112.7 mph in the standing mile at Maxton, NC. I had a LOT of people call BS on my claim over at 250.org even though I showed as much proof as I could. It left quite a bitter taste in my mouth as I worked hard trying to gain 1 mph here, one mph there. Lots of long distance top end testing, gearing changes, aero testing, etc. went into my runs to finally come up with a combination that I felt would do well in the standing mile. And although my claims still stand and my record is proof of my accomplishment I never received the apology from some on that board that I felt I deserved. Only last week did I finally receive my official record/certificate from the ECTA so those who harped about being able to "prove it" didn't know that there is a lag time between when you break a record and when you receive a record in your hands even though it was online and I provided the link for it.
I felt that many 250 owners would be curious and inspired by my accomplishment and would like to know how I did it. Regardless, its water under the bridge now and I figured I'd share some of the knowledge and experience I gained by good old real world testing.
I started with a bone stock Ninja 250 like most others.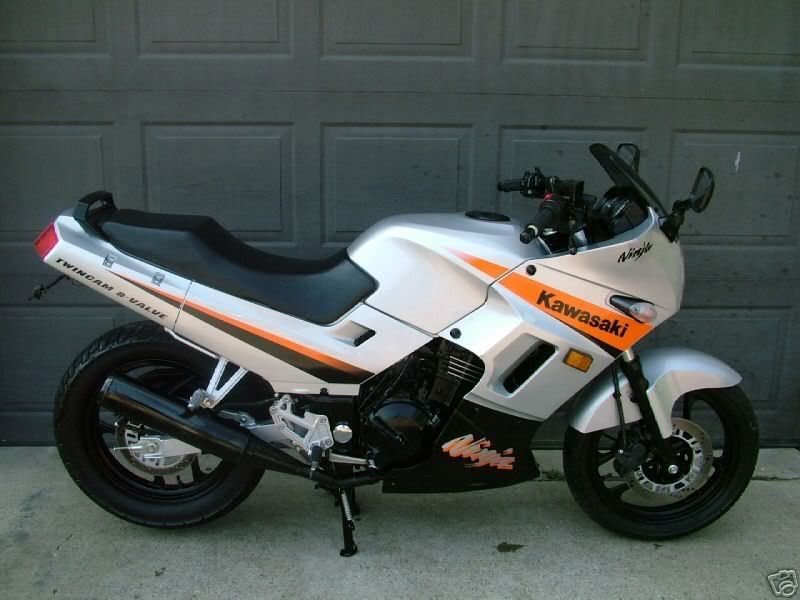 I proceeded to make top end runs with a buddy who had similar top end as I so we could use each other as floating references and see what worked and what didn't, along with GPS to verify our results.
As many have observed, the stocker goes about 105 mph give or take tapped out on the rev limiter. Some of you may have already been able to top out your Ninja 250 in stock-ish form...we can all agree the last little bit of real estate to accomplish. Next I played with bending the mirrors in to see if I could get anything more out of it while gearing a little taller too. I got to about 106-107 mph on GPS but again, the bike struggles like that up top.
Like many Ninja 250 owners I'm poor. I don't have lots of money for a full muzzys exhaust or a jet kit or pod filters. So I looked at other ways of picking up HP. As with my ZX-12R, I started by removing unnecessary weight, which included things like the center stand and grab rail. The mirrors and front signals looked a bit bulky and I figured removing them would further lighten the bike and make my aeros a little cleaner.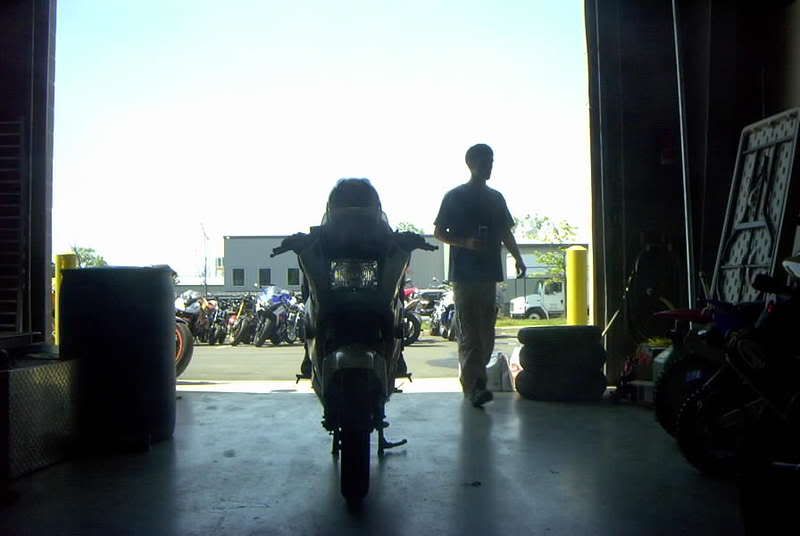 I went with woodcraft clip-ons and rearsets becaues I enjoy riding in the twisties. I believe both are a little lighter than stock so there is another small weight savings too, which only helps straight line acceleration, even if its marginal.
If you look in the picture below, notice there were no mufflers or front brakes!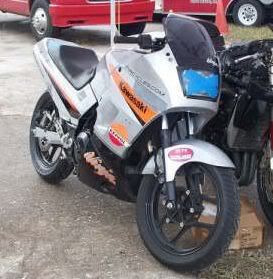 It is important to keep in mind that this is not a normal road-going modification one can perform to a 250! For one, no front brakes means you are throwing away about 80-90% of your stopping power! I already have experience slowing down from over 200 mph at this venue while not touching my brakes:
http://www.youtube.com/watch?v=t0UZ74OJmHc&feature=channel_page
Not a smart thing, but in a land speed race where front brakes are optional at speeds under 125 mph, I opted for a little less weight. The removal of the mufflers helped further reduce weight HOWEVER one has to also remember your a/f ratio changes with mufflers removed and you don't always get the power increase in the right part of the powerband. We did dyno runs before and after to see how the power curve was affected, more on that later. I also installed lowering bones in the rear and lowered the front of the 250 accordingly although I didn't get any noticable change in before and after passes in the testing phase I figured it had to help shrink frontal area just slightly.
Internals of the motor are stock, from valve cover to oil pan. Running your bike at high rpms all the time calls for more frequent valve adjustments. In 8,000 miles or so I had to adjust the valves 3 times because the motor got so noisy.
Bone stock, my 250 put out almost exactly 28 HP to the wheel. Wanting a little more up top, I decided to see what minor changes would make to the 250. We made several pulls on the stock 250 to make sure the 28 hp figure we saw was accurate. Afterwards we tried different combinations of exhaust and fuel set-ups...in the end I will say that after making a fuel change with the mufflers removed we got a combination that yielded favorable results...almost a 10% increase over stock!
It is important to note prior to going on the dyno I played with gearing to see what the 250 could pull with 28 HP. The result was about 112 mph
http://www.youtube.com/watch?v=k-QEyl9MUV8&feature=channel
so I knew what kind of gearing change I needed to make given the minor increase in HP.
It was time to head to the track and went 111 mph or so before my final run. My gearing seemed just about perfect so I tried shifting at a slightly different RPM. Before I headed back to the staging lanes I made a minor fueling change and proceeded back up the runway. We had mild winds which can really affect the speeds of the 250. I remember clicking into 6th gear around the 1/2 mile mark....so the final 1/2 mile was a very slow progression of RPM and MPH. With the borrow leathers I scooted around to see if my aero would pick up or slow me down as I approached the trap. The stars lined up perfectly because I came through at 112.7 mph, enough to just barely edge out the new 08 that was out with a pro rider on it. Him and I are racing comrads and thoroughly enjoyed the matchup, it made it that much more intense.
I hope this sheds some light on the subject. I would like to also add that my exact a/f ratio and gearing won't be disclosed, but it shouldn't be terribly difficult to estimate sprocket choice. The gearing calculator is on the board here and is pretty accurate but you do have to remember PEAK POWER isn't at the rev limiter as you can see by the dyno curve! Also, please remember that every bike has a specific a/f ratio it likes. This is why I like real world testing along with dyno testing.
In conclusion it wasn't just one thing that got me that speed. I'm a lightweight rider who has previous land speed racing experience on a zx12. I played with several different sprockets for an optimal MPH. I tried LOTS of different tucks, different shift points, tried different fuels, etc. Its the total package that helped get me the speed I got, not just one thing.
Years ago I had an 89 model and although it was stock too I could never pull the same MPH I could now...I was the same weight back then too. What changed was my experience and learning the proper tuck for me on my bike. That is important and hard to learn.
Ali
#9314
MPS/F 250/4 ECTA Record Holder
2004 EX250
P.S. Darkhorse, see you at Maxton bro. Not sure if I'll bring the 250 or not ($$$) but if we have time lets see what we can do to get your 250 up there too! I don't mind riding your 250 as well since I'm a bit lighter. I have a battery that is 1-2 lbs lighter that you can try out...every little bit helps!!!